One of the bigger projects I had for the wedding was the flowers. After looking at several different options, I decided to make all of my own paper flowers instead of getting real flowers. I picked up
this kit
to do a little experimenting to see its done and how long this would take me to make all of these.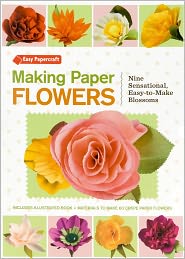 It actually came with supplies to make some of these flowers, and after trying them out and seeing how they came out I decided to go for it. I ordered more crepe paper sheets and get the wire and LOTS of floral tape and went to town.
These were a little tricky at first, but once I had a system down of cutting and taping it went faster. These were a cut and tape individual petals, and you just have to be okay with your hands being all sticky from that wonderful tape. I was very happy with the result of them, and while they were time consuming they were worth it. Here are some pictures of some of the completed flowers. These aren't the way the final bouquets looked, but a good idea of it. I actually don't have a picture of the final bouquets at the moment, but I'm sure someone has one that I'll get soon enough and can share.
Martha has lots of paper flower tutorials on her website, and my original intention was to just pull her off of there. But, once I saw this kit for $12 with supplies to experiment, I thought it worth it for the testing. And, there were enough types of flowers in there that I didn't need to print and figure out the online ones.
Linked up at: