This is what we are suppose to see when we look out the front of our apartment complex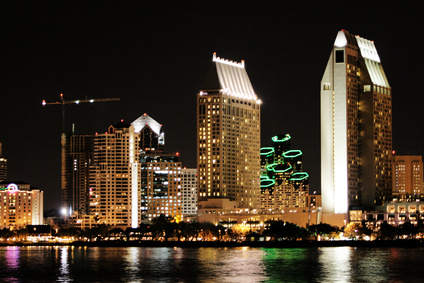 Well, almost, I live on the other side of the buildings, but you get the idea...
Last night this is what it looked like from my place.
No power across San Diego county yesterday, starting about 3:40. The lights here are from the cars on the freeway. After making it home, the hubby to be and I decided to take a nap and see if everything came back on quickly. When I got up an hour or so later and looked at the news on my phone I realized this was not the case. So, we found the flashlights, grabbed the steaks out of the fridge and headed up to community balcony to BBQ. Some other neighbors had the same idea, so we all sat around and used the BBQs and ate. One of the neighbors even got out some firecrackers to entertain the kids that were out there.
Once it started getting cold, we headed back inside and played some board games and listened to music on the ipod til I fell asleep. About 1:30 there were people in the complex and on the street cheering, which we knew meant power was back on! So, we managed to survive our 10 hours of powerlessness pretty well. Thank goodness for the BBQ, or we would have been eating PB&J and Cheez-It's for dinner. (Not that those aren't wonderful things) It seems that they were able to get power to some people in just a couple hours, and by the early morning power had been restored all over.
Since the initial thought was power might not be back on until mid day today, all the schools were cancelled throughout the county. And, my work got closed for the day. So, I'm starting my vacation time a day early!